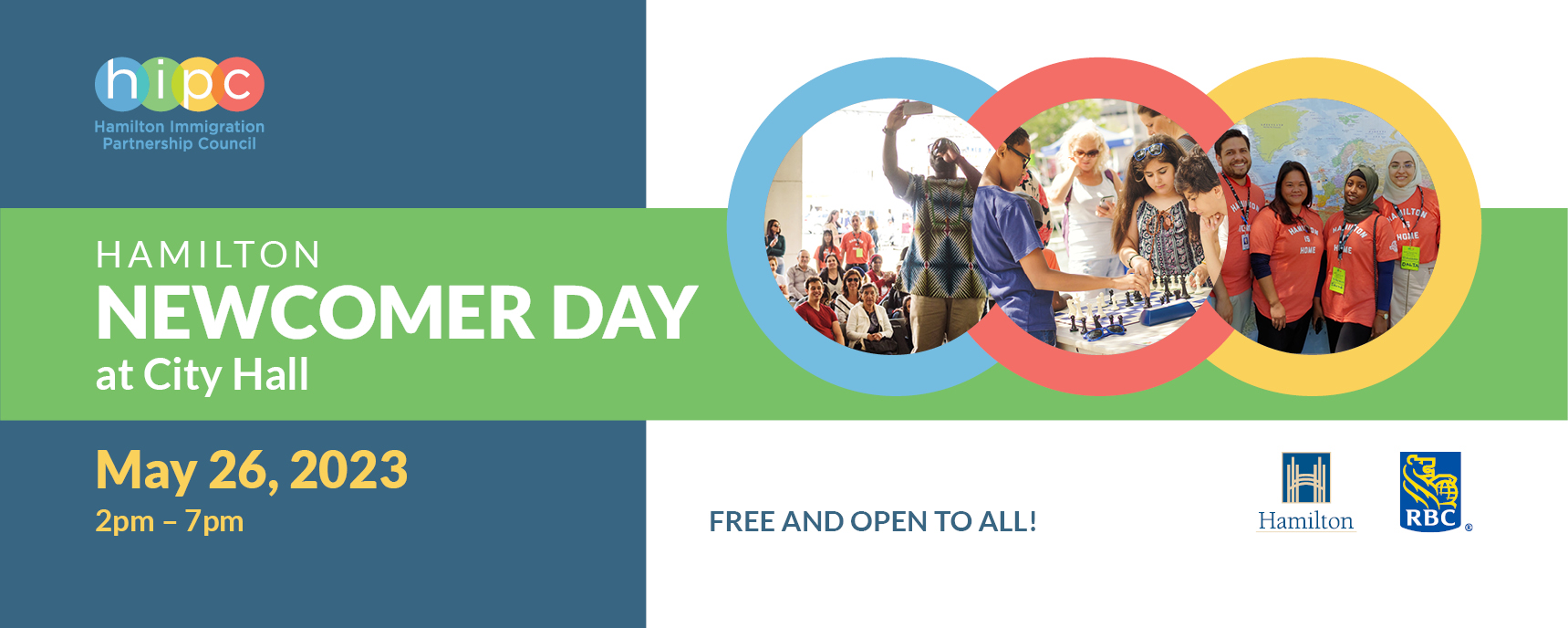 Hamilton Newcomer Day 2023 is coming up!
Newcomer Day is an annual event held by the Hamilton Immigration Partnership Council in May that welcomes newcomers to Hamilton, helps them understand and access a wide range of services, and celebrates their contributions to Hamilton. 
It is a FREE event open to all! Check out the line-up!
All Hamiltonians are invited to join in welcoming newcomers in Hamilton!
Friday May 26, 2023 from 2:00-7:00 pm at Hamilton City Hall (71 Main St W, Hamilton, ON L8P 4Y5)
Questions or inquiries about Newcomer Day 2023? Contact: Sarah Wayland, Senior Project Manager – HIPC at sarah.wayland@hamilton.ca 
Newcomer Day - Event Line-Up
Hamilton Newcomer Day festivities will kick off with a Canadian citizenship ceremony in Council Chambers, allowing the public to witness an important milestone for those who will become Canadian citizens. Take pictures, enjoy food and refreshments and get ready for the day!
Location: Hamilton City Hall (Indoors, 2nd Floor)
Time: 2:00 PM – 3:00 PM 
Are you looking to learn about the services, programs and organizations available to you in the City of Hamilton? 
Stop by the information and services fair and connect with over 30 local organizations eager to assist you in accessing various resources, programs, and support services. 
Location: Hamilton City Hall (Outdoor, front courtyard)
Time: 2:00 PM – 7:00 PM
Organizations featured:
Hamilton Urban Core Community Health Center*
Compass Community Health
Good Shepherd Centres + Ujima Project
Centre de santé communautaire Hamilton/Niagara
Distress Centre Halton
Refuge Hamilton Centre for Newcomer Health
McMaster refugee study
Wesley
YWCA Hamilton
Immigrants Working Centre
YMCA of Hamilton / Burlington / Brantford*
Réseau en immigration francophone du CSO (Francophone immigration network)*
Ukrainian Canadian Congress Hamilton
Asociacion Fraternidad Hispana ( AFH)- Fraternity Hispanic Association
Collège Boréal
Continuing Education HWDSB
HWCDSB
Mohawk College
Conseil scolaire catholique MonAvenir
Goodwill Amity*
Fedcap Canada
Access Community Capital Fund
PATH Employment Services*
CARE Centre for Internationally Educated Nurses
York University Internationally Educated Professionals Bridging Programs
Service Canada
Hamilton Police Service
Hamilton Public Library
Hamilton Centre for Civic Inclusion
City of Hamilton – HSR
In addition to the other outdoor offerings, Hamilton Newcomer Day will captivate audiences with live musical performances. Talented individuals will showcase their skills and cultural backgrounds, highlighting the rich tapestry of cultures that make Hamilton a vibrant and inclusive community.
Location: Hamilton City Hall (Outdoor, front courtyard)
Time: 2:00 PM – 7:00 PM
Moderated by Lohifa and kicked off with Indigenous performance – check out some of our key performers, speakers and entertainers!
Duckai – Duckai is a multi-talented artist from Hamilton, ON who offers thought-provoking lyrics and expressive vocal performances.
Defining Movement Dance- Hamilton's only Hip-Hop & Street Dance focused dance studio, where students of all ages have the opportunity to learn about the foundations, the culture, and it's history through in-person programs
Whitness –   Witness is Dedicated to taking her life stories and experiences and sharing them with the world in a melodic way that people can relate to and find familiarity and comfort in.
Jhyve – Jhyve's a hidden gem in Toronto's music scene, winning CBC's 2021 Searchlight competition, having landed
several songs on Spotify's Canada Viral Top 50 playlists, opened for the likes of Jessie Reyez, and received a JUNO Award.
Food options and a local vendor marketplace will be available on-site, offering a diverse selection of culinary delights and unique products that reflect Hamilton's multicultural essence.
Families are encouraged to attend, as there will be an array of family-friendly activities and offerings to keep individuals entertained throughout the event.
Location: Hamilton City Hall (Outdoor, front courtyard)
Time: 2:00 PM – 7:00 PM
Food options: 
Mamey Tamales –  Mamey Tamales are Gluten Free and Locally Made. "Our recipes are inspired from a fusion of Latin cultures from South and Central America including our "secret" family spice mix."
Lemon Bar – Serving colorful handcrafted lemonade mocktails since 2021. 
Diced Ice – Our rolled ice cream with flavours inspired from our South East Asian background. Endless combinations and toppings makes for a unique experience.
Vendor options: